by Paul Deines
It's been a year since I last discussed the Bourbon County series, and that means the madness is upon us again. I woke up the day after Thanksgiving with an itch under my foot telling me to hit the bricks in search of some of Goose Island Beer Co.'s most opulent beer. This year, the Chicago brewer released the standard barrel-aged imperial stout and brought back the barleywine, as well as two one-off variants. But the highest-rated in the series is Bourbon County Brand Coffee Stout.
Barrel-aged with Intelligentsia Coffee, BCBCS was released in bombers for the first three years it was bottled. Then in 2013, Goose Island stared releasing it in four-packs. The brewer's 2011 merger with macrobrew giant Anheuser-Busch InBev makes Bourbon County the most widely-available of super-hyped limited releases, but Bourbon County Coffee is still a chore to find. I was lucky to happen upon a bodega in my neighborhood that received two cases of BCBCS and was selling it at MSRP. So, I was able to snag two four-packs, enough to satisfy my yearlong craving for this amazing beer and set some aside for cellaring.
Civilians are surprised when I tell them I cellar beer. Popular opinion is that beer should be consumed fresh, and this holds true for lagers or pretty much anything hoppy or low-ABV. But boozy stouts, barleywines, abbey ales, gueuzes – these have staying potential. The yeast keeps working on the sugars, oxygen seeps in, bitterness and dominant flavors fade. This mellowing and evolving under proper cellar conditions can be like watching an image come into focus. Bell's Expedition Stout, for example, borders on soy-sauce-y while young; add two years and it's succulent chocolate cake. Sierra Nevada's Bigfoot Barleywine is a battle of stewed fruit and herbal hops the year it's released, but 12 months later it's silky smooth. The overwhelming heat of the regular BCBS calms wonderfully with a couple years.
The risk you take in cellaring is putting off drinking an excellent beer, only to discover it is much worse a year later. Bourbon County Coffee might fall into this category. Conventional wisdom in the beer geek community is you don't age an adjunct-forward brew, or you'll just end up losing the key flavors. The coffee in KBS sloughs off or the chili-pepper heat in Mexican Cake fades away. Yet in 2014 alone, three of my favorite beer experiences involved coffee-forward ales that were over two years old. To my taste buds, a strong coffee presence can settle over time into a burnt, oaky bittersweetness that accents the chocolate, dark fruit and toffee you find in cellarable beers. And no stout showcases dark-roast coffee quite like BCBCS; so just before Christmas, I decided to enjoy a mini-vertical of Bourbon County Coffee with my buddy Joe, just the 2013 and 2014 vintages. An opportunity to see how time affects this power-ballad of a beer.
These two vintages, though, are not exactly the same stout. Any beer will see variation between releases, but BCBCS sees more. For one, the coffee bean changes each year. Last release, Goose Island used a Salvadoran bean, Los Inmortales, described by Intelligentsia as "cherry sweet, with a lovely creamy body." This release, it's the more citric Zirikana from Rwanda.
And sure enough, the 2014 Bourbon County Coffee is more astringent than I recall the 2013 vintage being when I drank it fresh after the release. 2014 is also lighter bodied and lower in alcohol (13.4% ABV this time around, compared to 14% a year ago). Jesse Valenciana of Goose Island attributes this to the harsher-than-normal winter in Chicago, which stymied the expansion and contraction of the bourbon barrels.
It's still a big stout. Bigger than comparable barrel-aged perennials like KBS, Firestone Walker's Parabola, or Dark Horse's Barrel-Aged Plead the 5th. Like regular Bourbon County, it's impenetrably black with a meagre mocha head. Also like the non-coffee version, there's an aggressive smoke-and-vanilla component to the nose, but the coffee tempers this into something like marshmallow/marzipan. Zirkana does not manifest as a powerful espresso smell; it's reminiscent of a house coffee one might get at a good Italian bakery. There's also caramel and white chocolate but none of the black cherry or currant I get from the regular BCBS. The taste, as I stated before, it brighter and sharper than last year's, with a nutmeg spiciness like the coffee is losing the battle against the bourbon. It's reminiscent of tiramisu.
We then opened the 2013 vintage to see a) how it compared to 2014, and b) if the year had been good to it. To my surprise, the nerve-jangler dark roast smell had barely faded. I could detect that pleasantly burnt quality, though. The flavors were better integrated, creating a malted milk body, like the crème in a cherry cordial. Combined with the bourbon and baker's chocolate, it was glorious. Everything hangs out on the tongue longer, too, whereas the acidic notes of 2014 swept all flavor from your tongue with each swallow. Cellaring beer is a gamble. It's experimentation, not investment. One year has, in my opinion, improved 2013 BCBCS. I'm saving another bottle of each vintage to drink in 2016, because even if it's potentially falling off, who knows?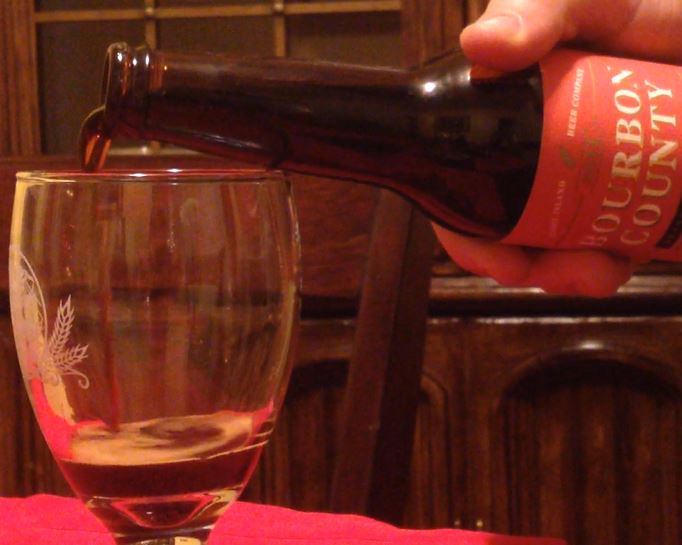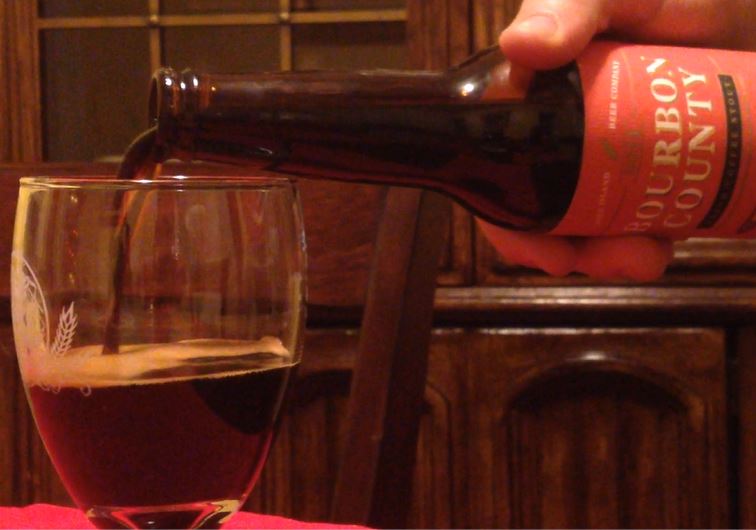 BOURBON COUNTY BRAND COFFEE STOUT (Goose Island) New year, same disclaimer – Goose Island distribution is nearly nationwide, but folks love the Bourbon County series. I doubt you'll still find BCBCS on the shelves, and if you do get ready to pay through the nose for it. But keep your eyes open all the same.