All brewers are hemmed in to a certain extent by the fact that they are making beer. Beer, at its most basic, is water, barley, and hops. In 1516, Germany codified this in the Reinheitsgebot, a strict purity law confining the production of beer to only these ingredients (not east, which Louis Pasteur would not identify as key to fermentation until 1857). The law stood for centuries.
The fact that America's most industrious early-twentieth-century brewers – Frederick Miller, Adolphus Busch, Frederick Pabst – were German-born meant this nation was in thrall to the light lagers of the Reinheitsgebot for decades. Then in the 1980's, the American craft movement reintroduced hoppy, malty, flavorful ales, but even the most pioneering brewers held to the basic recipe of beer. Toss in chiles, oysters, and wild yeasts; age it in wine, brandy, and bourbon barrels; freeze it, thaw it, mix it like sherry. Contort beer any which way, but it's still, essentially, a concoction of water, barley, and hops. Many breweries have beer series dedicated to testing the limits of this recipe, though. Founders has the Backstage Series; Brooklyn Brewery has the Brewmaster's Reserve series; and New Belgium has Lips of Faith.
New Belgium Brewing began commercial production from the basement of husband and wife Kim Jordan and Jeff Lebesch in 1991. Their line of beers – including rainmaking amber Fat Tire – have a definite Belgian inflection. In 1996, they brought in brewmaster Peter Bouckaert, formerly of Rodenbach, to spearhead a push into Brussels-style sour beers. A few years later, they started the experimental Lips of Faith series.
That name is wonderful. Lips of Faith includes a Hefeweizen made with curry and a Schisandra-infused dubbel. This type of endeavor doesn't exist to produce sought-after whales or pry an extra ten bucks from a beer snob. Rather, it offers adventurous drinkers – those with a little faith – the opportunity to try something out there, potentially be amazing or awful. I've nearly gagged on two of the last Founders Backstage offerings, but I'll keep buying them, because it's a great company and who knows what they'll make next?
Anyway, while visiting family in Kentucky, I decided one morning to take my rented Chevy Cruze over the river to Indiana and visit a recommended bottle shop. They had a nice New Belgium display with four of the Lips of Faith brews. Not knowing when each was bottled/released, I settled on La Terroir, their dry- hopped Wild Ale, a style I loved which I assumed would hold up over time.
I've discussed the provenance of wild ales in a previous review; it's a style as far removed from the Reinheitsgebot as I can imagine and one that American beer geeks are clamoring for. If every bearded and bespeckled tippler was harping about Cascade hops a decade ago, today all the talk is Brett, that diabolical culture that wreaks havoc on wine and make ales a delicious funky sour.
La Terroir (French for "the land") refers to the effect the environment has on a given beverage. The land influence of this New Belgium ale is the wood barrel used to age their sours and the Amarillo hops added during fermentation (dry-hopping) to add extra flavor and aroma. The result is a hazily vibrant orange-gold liquid topped with a rocky head. There's the sour apple and farmland funk of a wild ale, but it's buttressed by grass, mango, and citrus notes. La Terroir is effervescent but not by any means light. One gets the pucker and alcoholic moderation (7.5% ABV) of a lambic geueze with the substantial mouthfeel of an IPA, complete with that passion fruit hoppiness. It's a fantastic balancing act, juicy and tart, with neither the bitterness of a pale ale nor the vinegar notes of a sour.
Sometimes a boundary-pushing brew is a total train-wreck. But sometimes you get something like La Terroir, and that's reason enough to toast to demise of beer purity.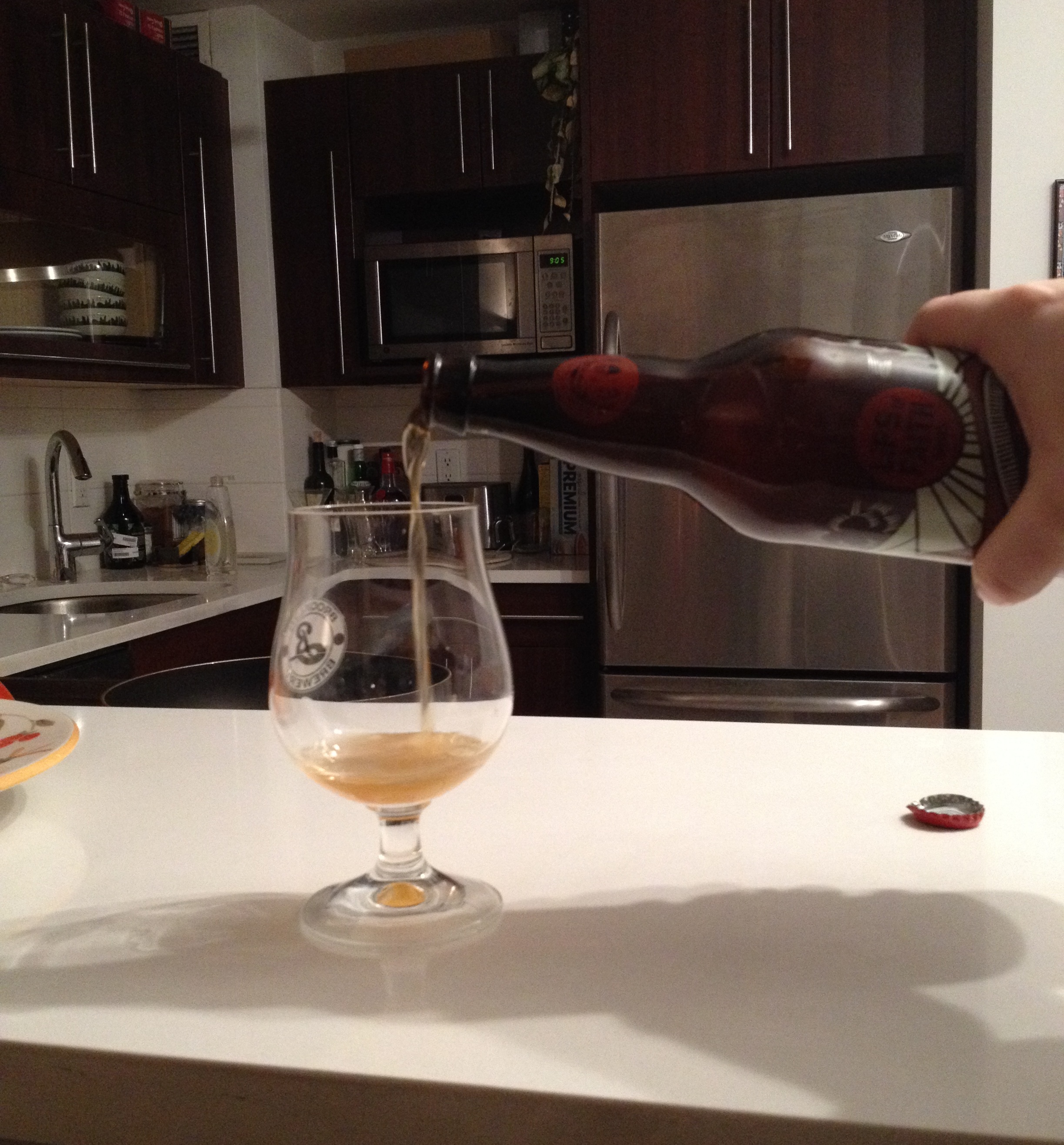 LIPS OF FAITH: LA TERROIR (New Belgium Brewing) – Available on a rotating basis wherever New Belgium is distributed (which is much of the US, but not, alas, New England, New York, New Jersey, Pennsylvania, Ohio or Kentucky).
Brief Soapbox Note: I'd be remiss not to mention the bold, progressive, and just genuinely awesome choice New Belgium's co-founder and CEO Kim Jordan made to sell the company to her 400 employees. It is now one of approximately 10,000 employee stock-ownership plans in the country today.